2023 香港黃金百里 Big K 8KM 青少年賽 - 第二場
2023 GOLDEN 100 HONG KONG Big K 8KM YOUTH RACE - RACE 2
報名費 FEE
HKD $280
日期 DATE
2023.10.7
起步時間 START TIME
10:30
賽程 DISTANCE
8km
限時 TIME LIMIT
3小時 HOURS
總攀升 ELEVATION+
440m
總下降 ELEVATION-
440m
起點 START
大帽山
終點 FINISH
大帽山
領取跑手包日期
RACE PACK COLLECTION
待定 TBC
*起點設行李寄存 (只限一件)
BAG DROP AT THE START (ONE LUGGAGE PER PERSON)
路線圖 MAP
*中途設一個水站 ONE WATER STATION ON THE COURSE
參賽要求
PARTICIPATION REQUIREMENTS
於2005年10月7-2014年10月8日期間出生 (7-17歲)
Birthdate between 2005.10.7-2014.10.8 (between 7 to 17 years old)
跑手包及完賽紀念品
RACE PACK & FINISHER GIFT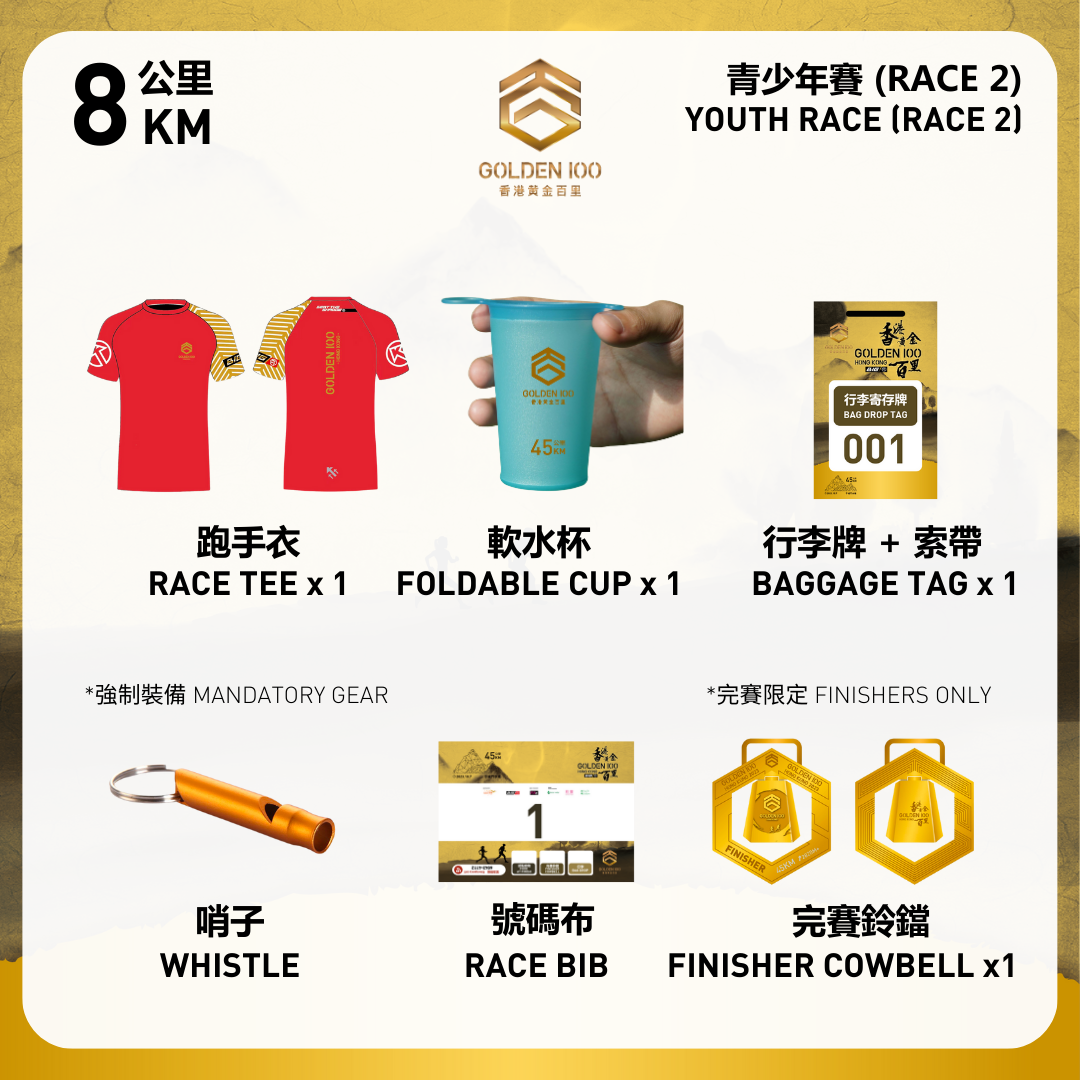 比賽規則
RACE RULES
1. 參加者必須自力走畢全程。
Runners must complete the race under their own power.
2. 參賽者中途不可接受支援隊伍補給。
Support teams are NOT allowed during the race.
3. 除賽前獲大會認可,嚴禁陪跑。一旦被發現借助他人力量前行,如揹、拖動或推行,主辦單位有權取清該參賽者資格。
Unless permitted by the organizer, pacers/support runners are strictly prohibited. If a runner is found to be physically carried, towed, or pushed by another person(s), the organizer retains the right to disqualify that runner.
4. 主辦機構保留酌情修改比賽規則、路線、舉行時間及其他安排的權利。
The organizer reserves the right to make changes to the race rules, course, schedule, and other race-related matters as deemed appropriate.
獎項 PRIZES
全場男、女子 頭三名
OVERALL BOYS & GIRLS TOP 3
第一名 1st PLACE:
HKD $300 書券 Book Voucher
第二名 2nd PLACE:
HKD $200 書券 Book Voucher
第三名 3rd PLACE:
HKD $100 書券 Book Voucher
年齡組別頭三名
Age Category Top 3
Boy & Girls 7-8
Boy & Girls 9-11
Boy & Girls 12-14
Boy & Girls 15-17