2023 香港黃金百里 - 100公里賽
2023 GOLDEN 100 HONG KONG - 100KM
報名費 FEE
個人 INDIVIDUAL
HKD $1700


四人隊際 OPEN TEAM
(男子 Men、女子 Women、混合 Mixed)
HKD $6800

企業四人隊際 CORP TEAM
HKD $6800+$1200*
(捐款 DONATION)
*包跑手包派送上門及$1200退稅收據
*include race pack delivery and donation receipt

日期 DATE
2023.12.1-2
起步時間 START TIME
12.1 09:00
賽程 DISTANCE
100km
限時 TIME LIMIT
32小時 HOURS
總攀升 ELEVATION+
5400m
總下降 ELEVATION-
5350m
起點 START
西貢北潭涌
Pak Tam Chung
終點 FINISH
元朗大棠
Tai Tong
領取跑手包日期
RACE PACK COLLECTION
待定
TBC
公眾支援區 PUBLIC SUPPORT ZONE
CP3 水浪窩 Shui Long Wo
CP6 城門 Shing Mun
CP8 大帽山 Tai Mo Shan
行李寄存 BAG DROP PICKUP
@CP4 沙田坳 Shatin Pass
@終點 Finish
於起點使用大會指定寄存包寄存行李,及在指定檢查站與終點提取 (不設再次寄存)
Use our official Support Bags and Finish Luggage Bags to store your luggage at the start point, retrieve them at designated checkpoints and finish (no re-storing allowed).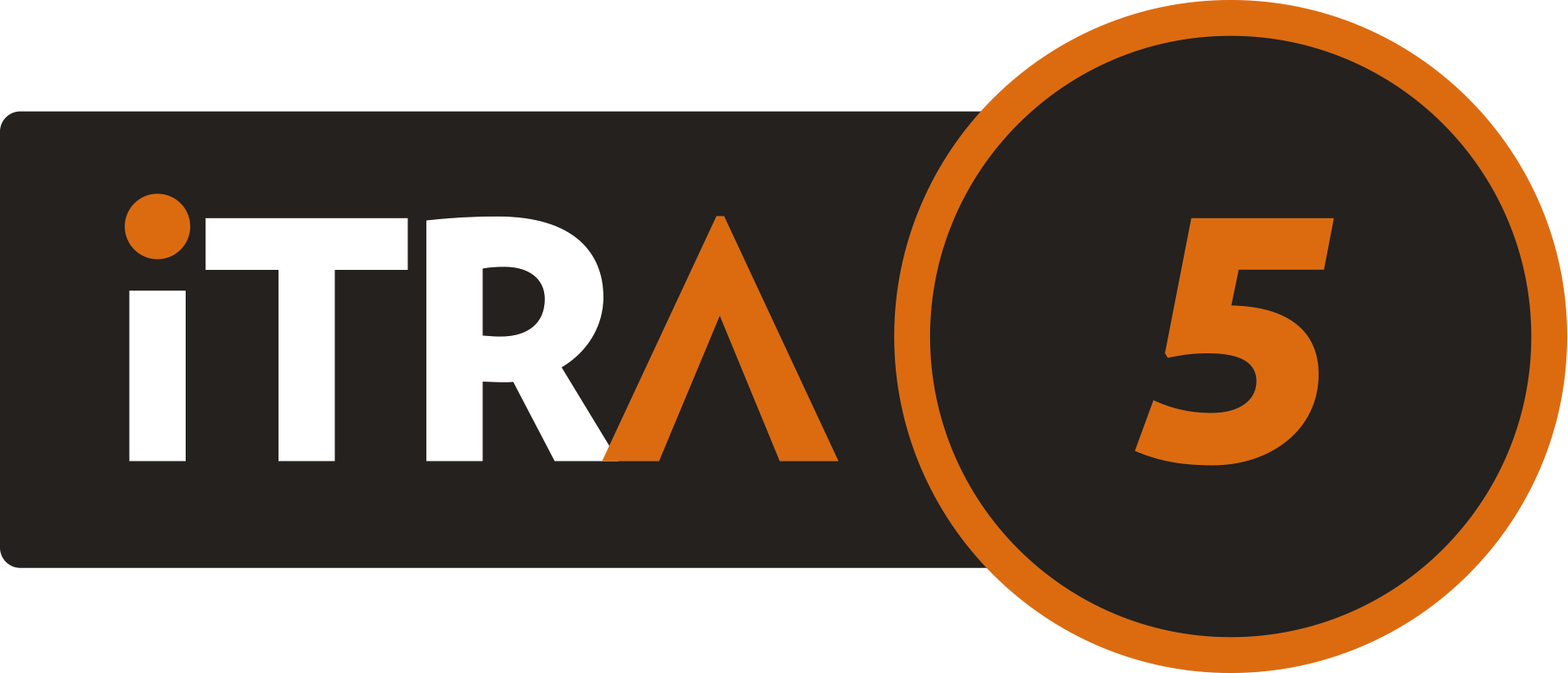 100KM 完賽可獲 100K UTMB INDEX 分數及 iTRA 5分
100KM finishers can obtain 100K UTMB INDEX AND 5 iTRA points
跑手包及完賽紀念品
RACE PACK & FINISHER GIFT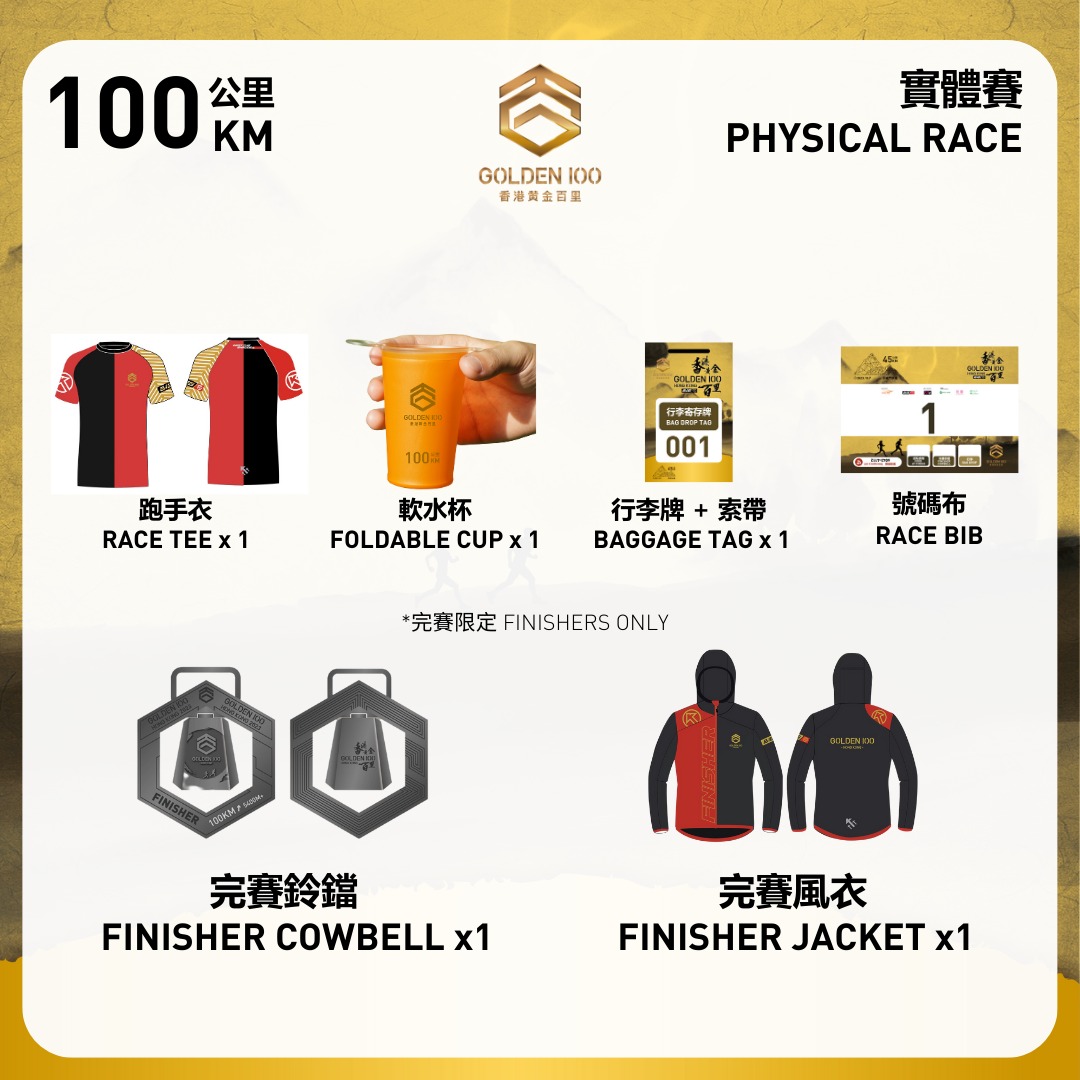 重要規則
IMPORTANT RULES
1. 參賽者必須自力走畢全程。
Runners must complete the entire course with their own effort.
2. 參賽者只可於指定補給站 (公眾支援點) 接受支援隊伍補給。
Runners are allowed to receive support at designated checkpoints (Public Support Zone).
3. 除賽前獲大會認可,嚴禁陪跑。一旦被發現借助他人力量前行,如揹、拖動或推行,主辦單位有權取清該參賽者資格。
Unless permitted by the organizer, pacers/support runners are strictly prohibited. If a runner is found to be physically carried, towed or pushed by another person(s), the organiser retains the right to disqualify that runner.
4. 大會可隨時更改比賽規則、賽道或比賽安排。參加者可留意大會網站的更新公告。
The organizer reserves the right to change rules and regulations, race course and/or other arrangements deemed appropriate. Runners can refer to the race website for updates.
組別 CATEGORIES
| | | |
| --- | --- | --- |
| 男子 MEN 18-39 | 女子 WOMEN 18-39 | 男子隊際 MEN'S TEAM |
| 男子 MEN 40-49 | 女子 WOMEN 40-49 | 女子隊際 WOMEN'S TEAM |
| 男子 MEN 50-59 | 女子 WOMEN 50-59 | 混合隊際 MIXED TEAM |
| 男子 MEN 60+ | 女子 WOMEN 60+ | 企業隊際 CORP TEAM |
獎項 PRIZES 
全場男女子頭五名
Overall Men & Women Top 5
年齡組別頭三名
Age Category Top 3
隊際組別頭五名
Team Categories Top 5
獎金 CASH PRIZES
男子及女子 MEN/WOMEN
全場第一 Overall 1st $5,000
全場第二 Overall 2nd $3,000
全場第三 Overall 3rd $1,000
隊際 TEAM
全場第一 Overall 1st $10,000
(包括所有男子、女子、混合、企業隊伍
Includes all Men's, Women's, Mixed & Corporate teams)
強制裝備
MANDATORY GEARS

參加者必須全程攜帶:
1. 手提電話
2. 兩個頭燈/手電筒
3. 連帽防水風衣
4. 至少1公升水或飲料
5. 食物 (最少300卡路里)
6. 飲食用具
7. 哨子 *
8. 救生毯或同等裝備 (最少130cm x 200cm)
9. 個人垃圾袋 *
10. 閃燈 *
11. 現金 (最少HK$100)
12. 號碼布和比賽計時裝置 *
13. GPS定位追踪器 *
*由大會提供
Each runner must carry the following items during the race:
1. A mobile phone with reception in Hong Kong and with sufficient power during the entire race (including at the finish point)
2. Two headlamps/torches (with batteries) and additional replacement batteries
3. Waterproof and breathable jacket with fully taped waterproof seams and hood
4. At least 1 liter of water or sports drinks [water bladder or water bottles) at the start line and upon leaving each checkpoint with refreshment post.
5. Energy Bars/food (min. 300 kcal)
6. Cup and utensils (no disposable cup or utensils will be provided)
7. A whistle*
8. An emergency blanket or equivalent (minimum size of 130cm x 200cm)
9. A personal rubbish bag*
10. Flashing light*
11. Cash (min HK$100)
12. Race number bib and race timing device (e.g. timing chip)*
13. GPS device*
*Provided by the organizer
完賽風衣 FINISHER JACKET
所有完賽參加者均可獲得 Available to all finishers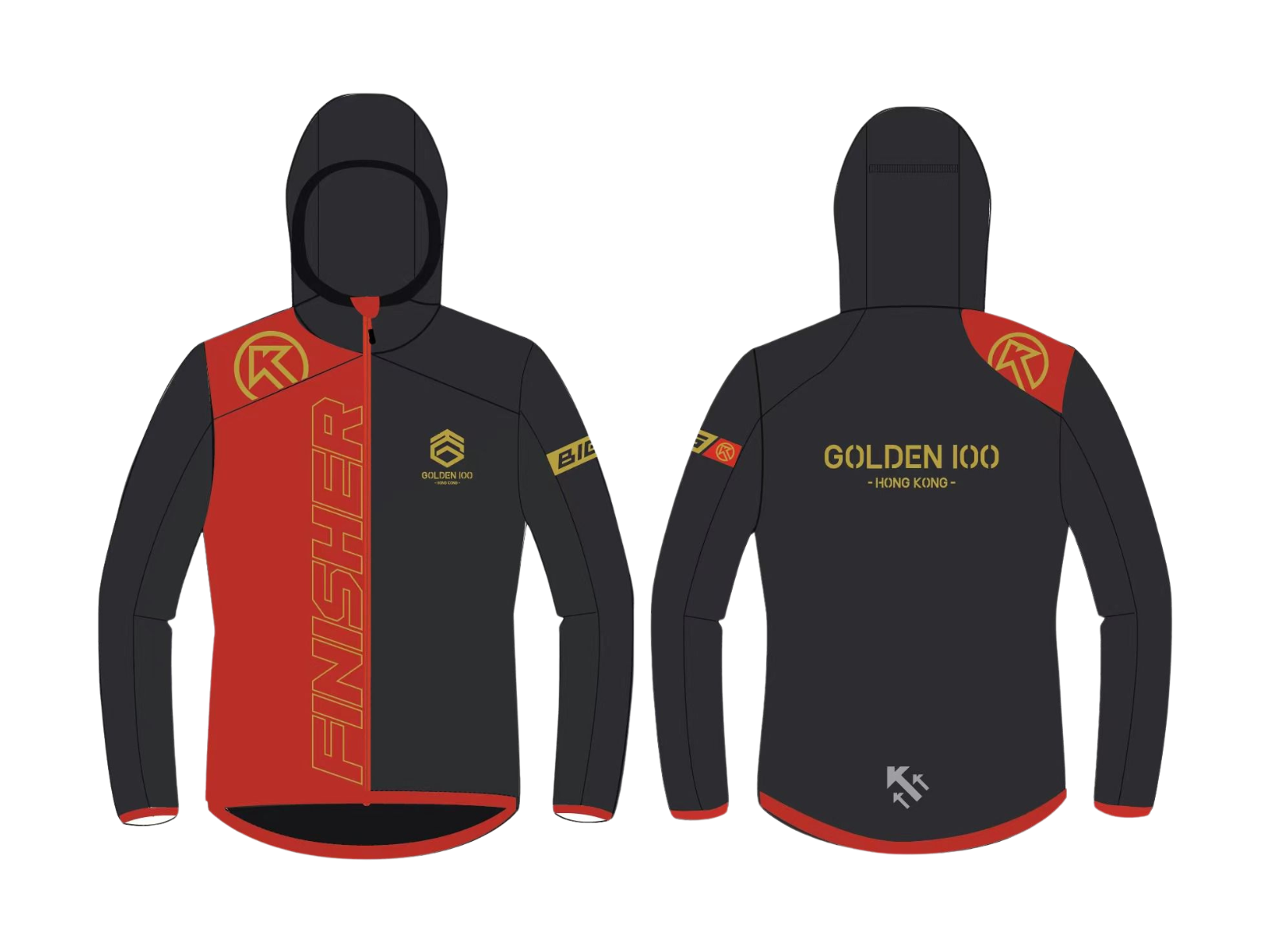 破紀錄獎 RECORD-BREAKING PRIZE
打破賽事紀錄,即可獲得獎金HKD$2,000,人數不限 (男子及女子)
Break the course record and receive HKD $2,000 
100KM 男子: 14:05:37
曾福祥 Tsang Fuk Cheung (2019)
100KM 女子: 13:59:38
向付召 Xiang Fuzhao (2019)
精英背心 ELITE VEST
全場頭30名選手 (不分男女)
First 30 individual finishers (Men & Women)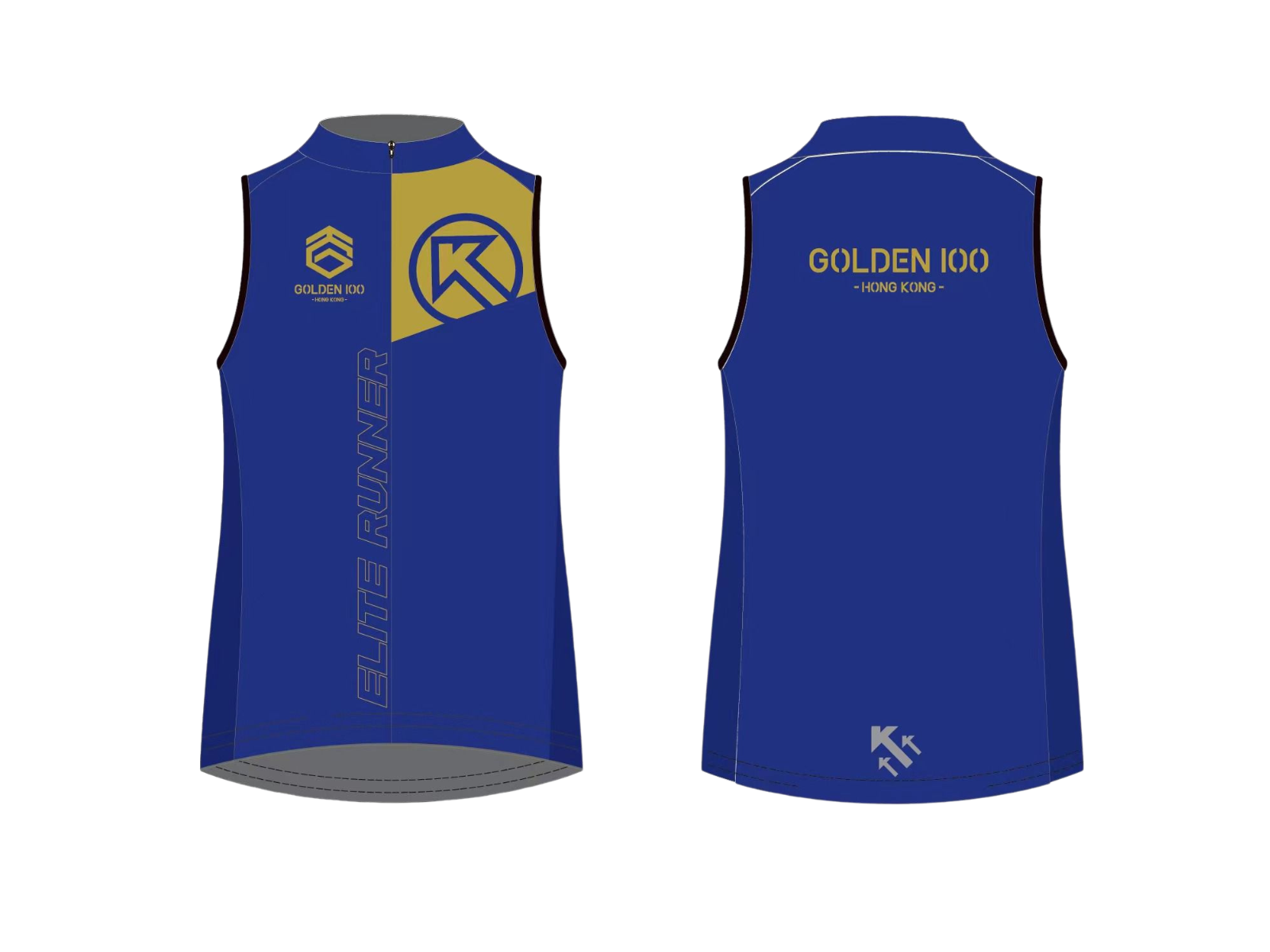 實至名歸獎 SPECIAL APPRECIATION AWARD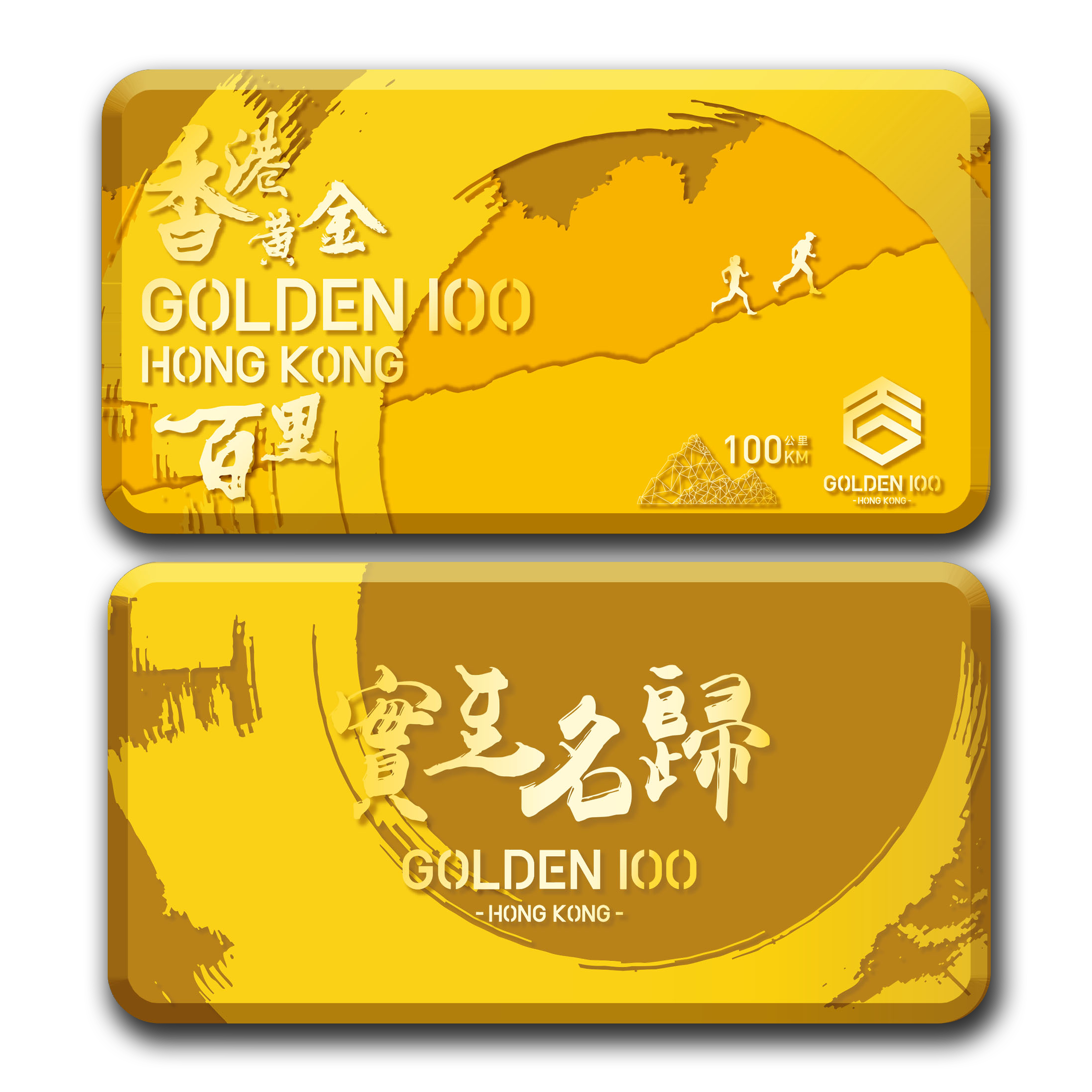 100KM 選手在特定時限內完成,即可奪得「九九九九金」獎座一個 (數量不限)
Runners who complete the 100KM within the specified time limit can win a "9999 Gold" trophy (unlimited).
100KM
男子 Men 11小時內 (≤ 10:59:59)
女子 Women 12小時內 (≤ 11:59:59)
獎座 Prize: 約25g 9999 Gold
大滿貫
GRAND SLAM
完成三場系列賽,即可獲得大滿貫完成者專屬紀念品。

Complete three races, and claim the Grand Slam finisher exclusive gift.
以三場總完成時間計算,以下獎項將頒發予個別參加者/隊伍。
Based on the finish times of all three races combined, the following awards will be presented to the respective teams:
2023香港黃金百里 100公里大滿貫
(冠、亞、季軍)
男子個人、女子個人、男子隊際、女子隊際、混合隊際、企業隊際
2023 GOLDEN 100 HONG KONG 100KM GRAND SLAM
(Champion, Runner-up, 2nd Runner-up)
Men, Women, Men's Team, Women's Team, Mixed Team, Corporate Team

2023香港黃金百里 100英里大滿貫
(冠、亞、季軍)
男子個人、女子個人、男子隊際、女子隊際、混合隊際、企業隊際
2023 GOLDEN 100 HONG KONG 100MILES GRAND SLAM
(Champion, Runner-up, 2nd Runner-up)
Men, Women, Men's Team, Women's Team, Mixed Team, Corporate Team